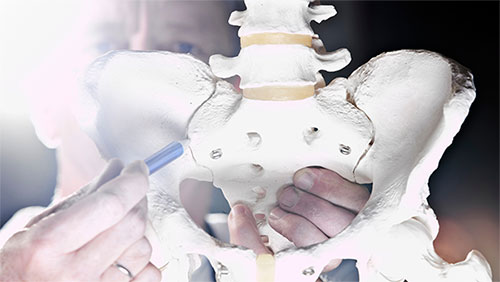 Treating Sacroiliac Joint Pain
Pain management is often a case of trial and error. But for some types of pain, such as sacroiliac joint pain, there are tried-and-true treatments.
What Is Sacroiliac Joint Pain?
Sacroiliac joint pain, or sacroiliitis, can be extremely painful. These joints can be found at the junction of the lower spine and pelvis. Either one or both sacroiliac joints can be affected. Because of their location, the pain and inflammation can be isolated to the joints themselves, or pain and stiffness can radiate into the lower back and buttocks. In some cases, pain will even extend down the legs. Sitting for long periods, standing in one place, and climbing stairs can all aggravate the pain.
How is Sacroiliac Joint Pain Diagnosed?
Sacroiliac joint pain can often be misdiagnosed as lower back pain. However, by carefully examining the patient andmaking note of the patient's symptoms and experiences, our team is able to identify sacroiliac joint pain and begin treatment. If you experience any of the pain symptoms listed above, it's important to obtain a referral from your primary care physician so that the right treatment can be recommended.
Treatment Options for Sacroiliac Joint Pain
One of the most effective ways to treat sacroiliac joint pain is with sacroiliac joint injections. The most encouraging part of this treatment is that it provides 80% relief immediately. Additional injections can further reduce the pain and inflammation associated with sacroiliac joint pain. Relief from the pain can radically alter quality of life, improve mobility, and reduce stress and mental anguish caused by unresolved pain. Watch our video to learn more.
How Sacroiliac Joint Injections Are Administered
The sacroiliac joint injection is a steroid designed to reduce inflammation and swelling of the tissues around the joint. It is administered directly at the joint or intravenously.The injection itself is not very painful and, as previously indicated, the results are almost immediate. Once we have confirmation that the initial injection is successful, additional injections can be scheduled.
Injections for OtherTypes of Pain Management
There are many types of pain that can be managed with injections, includingneck pain, shoulder and knee pain, and leg pain. Learn more about how injections can help you better manage pain.
If your pain is affecting your quality of life, it's time to seek help. Chronic pain can lead to depression, anxiety, and other mental health problems. We can help you manage your pain and improve your quality of life through a variety of treatments and therapies.
If you're suffering from joint pain, talk to your primary care physician today for a referral to our specialized pain management clinic and to arrange for a consultation. Serving the Columbus region, we have offices in Gahanna and Dublin.We are here to help you determine the best approach to treating your pain with compassion and understanding.