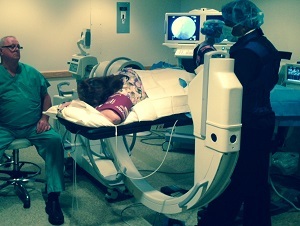 Injections for Pain Management
Very often, pain management treatments involve receiving injections in the affected area, that help relieve the stress and pain in the area. Quite often, these injections help find out the exact causes of the pain. Injections in the back help relieve back pain problems like radiculopathy and spinal stenosis. Radiculopathy is the inflammation or damage to nerves in the neck and lower back. In spinal stenosis, lower spine narrows and compresses the nerves inside. This leads to pain in the buttocks and leg.
Injections are one of three kinds: epidural, nerve block and discography. Epidural injections are administered around the spinal cord and must be done by a specialist. An imaging test is done before administering the injection. While the injection is being administered, the doctor can see a live X-ray (fluroscopy) that helps him maneuver the injection through the skin and bone. The medicine within the injection is a mixture of steroid and anesthetic, that helps ease the pain of the injection too.
A nerve block injection is used to diagnose the cause of the pain and has a mix of anesthetic and steroid. Discography injections are also diagnostic in nature and determine whether the contrast dye inserted into the spine leaks out at any point.
Injections are the most comforting relief for pain and need to be taken periodically, as per the physician's advice.
Epidural Steroid Injections
Epidural steroid injections act as a common treatment for back and leg pain in many patients with chronic and consistent pain problems. It involves bathing an inflamed nerve root in steroids (potent anti-inflammation medicine) to decrease the irritation of the nerve root that is causing pain. Radicular pain that originates from the spine, is treated with epidural steroid injections. Epidural injections are also used to treat nerve compression in the neck (cervical spine), referred to as cervical radiculopathy, which causes pain.
Epidural injections deliver medication very close to the source of pain generation, so the impact of the injection is focused and intense. The epidural steroid injection can help control local inflammation, while also flushing out inflammatory proteins and chemicals from the affected areas. Steroids also work by reducing the activity of the immune system to react to inflammation associated with nerve or tissue damage.
Other Treatments