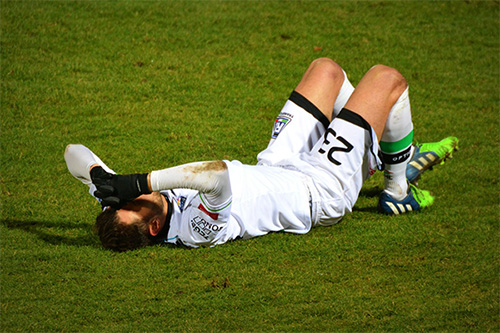 If you're an athlete, an injury on or off the field impacts more than your body. Any physical damage can be devastating to your mental health as well. When you're used to being physically active, being debilitated by pain can be frustrating and depressing. And when the solution to pain so often seems to be pills that leave you in a fog mentally, it can be demoralizing as well.
Sports Injury Treatment at Spine LLC
Here at Spine LLC, we approach sports injury treatment with the goal of minimizing or eliminating your pain, without resorting to pills or surgeries that prevent you from getting back to your sport. We work with your physician and medical team to develop a pain management plan that focuses on healing your joints, using innovative injection therapies. And we focus on you as a person, ensuring that you are addressing your other self-care needs.
Athlete Mental Health
There have been some high-profile news stories lately that have drawn the world's attention to the importance of mental health for athletes. You don't have to be a world-class tennis star or gymnast to realize how mental health can have a significant effect on your athletic performance. Sports injuries have an enormous impact on mental health. If you've been experiencing pain in your joints or bones from a sports injury for more than a few weeks, you should seriously consider meeting with a pain management specialist.
Regaining Mobility After a Sports Injury
When addressing the pain of your sports injury, one of the primary goals is to get you to a point where you're capable of moving again. Even if you must take time before resuming your sport of choice, we will work with you to treat the injury while also helping you find ways to resume safe activities – something that can be good for both your mind and your body. We understand how important it is for you to get back to your sport, so we create a customized treatment plan designed to alleviate pain, promote healing, and build your stamina.
Regenerative Medicine – The Forefront of Sport Injury Treatment
Regenerative medicine is an innovative treatment designed to help you get over your sports injury more quickly, and it can greatly reduce the need for surgery. The goal of regenerative therapy is to heal injured tissue and not just mask the pain. At Spine LLC, we employ two primary regenerative techniques: platelet-rich plasma therapy and stem cell therapy. With both of these approaches, we have achieved success in not only reducing pain but in healing the damage so that athletes can resume their sports activities without surgery.
Don't Let Your Sports Injury Stop You from Living
If you're struggling with a sports injury, you don't have to live with the pain. At Spine LLC, our focus is on giving our patients the ability to reclaim their lives through better pain management, more innovative healing therapies, and increased mobility. We specialize in treating pain conditions with a spectrum of proven therapy options ranging from conventional procedures to the latest technology- and science-based approaches. Talk to your primary care physician today for a referral to our specialized pain management clinic and to arrange for a consultation. Let us determine which approach might be most effective for you.
Step away from chronic pain.