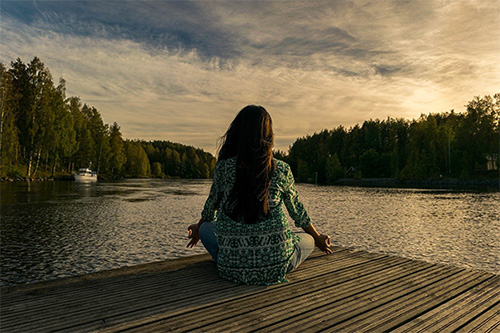 We are all much alike in that we go to great lengths to take care of our families and our homes. Even those of us who work outside of the home make time to care for our children, our spouses, our parents, and our pets. But how often do we take the time to take care of ourselves? How long can you reasonably be expected to accomplish all that you do if you don't take care of yourself?
Put on Your Own Oxygen Mask First
There's a reason that airlines advise you, in the event of an emergency, to put on your own oxygen mask first before helping others. With this approach in mind, you must, first and foremost, start to take care of yourself. You're not going to be of any use to any of the people who rely on you most if you don't take care of you and practice self-care.
How to Add Self-Care to Your Day
The easiest way to initiate self-care is to add a little physical exercise to your daily routine. I am not talking about taking your dog for a walk. I am not talking about playing with your child or running up and down the stairs throughout the day for work or when taking care of your home.
I am talking about spending 15-20 minutes a day just for yourself, to recharge mentally and physically.
Enjoy exercise for yourself – walking counts, swimming counts, yoga and meditation count. Begin your routine with 5-minute intervals at first, then slowly increase to about 20 minutes or more as tolerated. But make this time for yourself. By taking this time for you, you will be better able to undertake the other stuff that you have to do. You will also feel better about yourself, happier and more in control.
We Can Help You Manage Your Pain, but You Have the Power to Heal Yourself
Our interventions can make it easier for you to deal with your pain, but only you have the power to heal yourself. The interventions will only make it easier for you to handle your pain temporarily, but your efforts to incorporate a self-care routine into your daily life is what will truly help you long term.
Benefits of Better Self-Care
Whether it's by simply logging off of social media for a few minutes a day or getting your family to support your need for 20 minutes of me time a day, the benefits of self-care are more than just physical. These efforts can also improve your mental health, reduce anxiety levels, and help you achieve physiological benefits, such as lowered cholesterol and blood pressure.
You are worth 20 minutes a day. Let us help you manage your pain so that you can afford yourself the self-care you deserve.
You Do Not Need to Live in Pain
At Spine LLC, our focus is on giving our patients the ability to reclaim their lives through better pain management, more innovative healing therapies, and increased mobility. We specialize in treating pain conditions with a spectrum of proven therapy options ranging from conventional procedures to the latest technology- and science-based approaches.
If you are struggling with arthritis pain, pain from a sports injury or accident, or other chronic joint pain, talk to your primary care physician today for a referral to our specialized pain management clinic and to arrange for a consultation. Let us determine which approach might be most effective for you.
Step away from chronic pain.