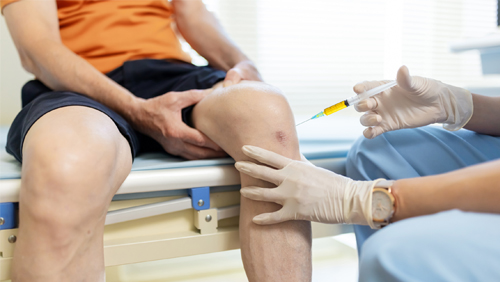 Living in pain can be very difficult, causing both physical and mental anguish. Often, people turn to medications for relief, but these remedies often have a negative effect on the body and the mind over time. Innovative solutions to pain, however, can literally give a person their life back, which is why we are so excited about the new innovations that are happening with orthobiologics.
What Are Orthobiologics?
Most people may be familiar with the concept of orthobiologics without realizing it but are unfamiliar with the terminology. In fact, you may have discussed things like stem cell therapy and platelet-rich plasma therapy as a potential solution to your pain. But the term orthobiologics is a more accurate means of describing these therapies because this form of innovative treatment involves using your body's own cells to treat your pain – not by masking it like pills do, but by promoting healing and healthy tissue restoration.
What Kinds of Pain Can Orthobiologics Treat?
Most commonly, orthobiologics are used to treat arthritis, tendonitis, plantar fasciitis, and joint pain in the shoulders, knees, hips, and elbows. While orthobiologics are a newer, more innovative treatment, they are becoming a more common solution for many patients when standard treatments are ineffective.
The Role of Orthobiologics in Preventing the Need for Surgery or Steroids
Regenerative medicine offers the ability to treat degenerative conditions and sports injuries; it is even becoming a method for preventing wear and tear using the body's own materials. Compared to injecting steroids or performing surgery, this makes regenerative medicine a more conservative approach that prolongs mobility, reduces pain, and keeps the patient active.
The Future of Orthobiologics
Orthobiologics – platelet-rich plasma therapy and stem cell therapy – are becoming the benchmark for effective treatment of joint pain. Using the body's own materials to promote healing has been shown to reduce bacteria formation at the site of an injury, prevent the need for surgery, and allow tissue to heal more effectively. In the future, we expect larger studies to provide the evidence necessary for more widespread insurance coverage for these treatments.
At Spine LLC, our focus is on giving our patients the ability to reclaim their lives through better pain management, more innovative healing therapies, and increased mobility. We specialize in treating pain conditions with a spectrum of proven therapy options ranging from conventional procedures to the latest technology- and science-based approaches. Talk to your primary care physician today for a referral to our specialized pain management clinic and to arrange for a consultation. Let us determine which approach might be most effective for you.
Step away from chronic pain.
This treatment does not help everyone and may not provide adequate or expected benefits, therefore a consultation is important to determine if you would even be a candidate. This treatment does not regenerate tissues but may promote the body's natural healing process and help inflammation and pain.