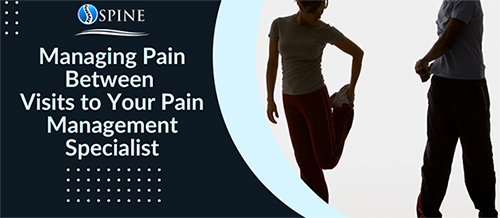 Managing pain on your own can be a difficult and lonely process. Even when you have started working with a pain management specialist, however, you'll still be expected to manage pain in between visits. For some types of pain, this is easy to do because some treatments, such as orthobiologic treatments, cortisone injections, and physical manipulation, may ease your symptoms or alleviate the pain. However, if you are suffering from arthritis, recovering from an injury, or experiencing chronic joint pain, you may need to take steps to temporarily alleviate pain until your next visit.
Stretching to Alleviate Pain
Stretching is something most people can do every day to help manage pain, improve mobility, and strengthen joints. Stretching regularly helps loosen muscles and it also helps to increase your range of motion. Stretching can also reduce pain caused by chronic conditions, such as osteoarthritis. But stretching does more than alleviate pain and improve mobility; according to a study from Colorado State University, stretching has been shown to increase serotonin levels — the hormone that helps stabilize our mood, reduce stress, and makes us feel good overall — which causes a decrease in depression and anxiety.
You're Not Managing Your Pain Alone
If there are measures you need to take to manage pain between your visits to Spine LLC, our team will provide you with exercises, prescriptions, and other activities you can, and should, be doing to help minimize your pain. It's important to follow our guidance for managing pain between visits; you can make much faster progress toward your recovery as a result.
Active Therapy and Pain Management
We encourage many of our patients to engage in safe physical activity as part of their treatments. Not only does physical activity help you keep your body active, but it can also have a dramatic impact on your mental health. Exercises like walking, stretching, and yoga improve mobility and joint health. As patients become more in touch with their bodies and begin to experience increased mobility from the suggested exercises, many of them are motivated to continue. Our library of patient videos includes guidance on back and neck exercises.
Don't Settle for a Life of Pain
If you are living with chronic pain, Spine LLC can help you – not just during your appointments but between them, too. We often help patients who believe there is no hope. At Spine LLC, our focus is on giving our patients the ability to reclaim their lives through better pain management, more innovative healing therapies, and increased functional ability. We specialize in treating pain conditions applying a spectrum of proven therapy options ranging from conventional procedures to the latest technology- and science-based approaches. Get in touch today.